A Madden 12 zone blitz concept we like to run out the 46 Bear that brings B gap pressure from the strong safety is the Buzz Weak 3 Flip. In this breakdown, we show how to achieve this pressure by making two pre-snap adjustments.
Playbooks Found In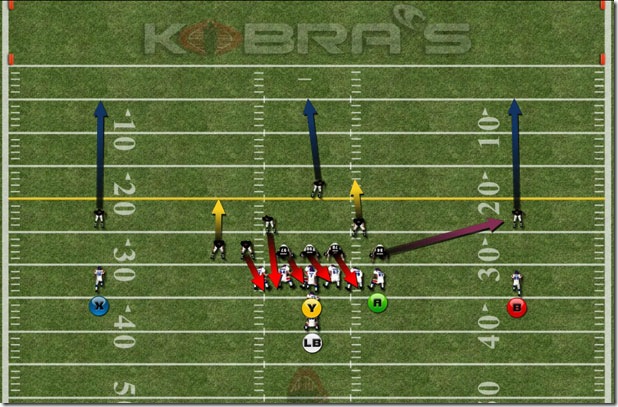 By default the 46 Bear Buzz Weak 3 Flip drops three defenders in 3 deep coverage, while having 3 defenders play underneath zones. One of those defenders is the left end, who drops into the right (as you look at the screen) curl to flats area of the field.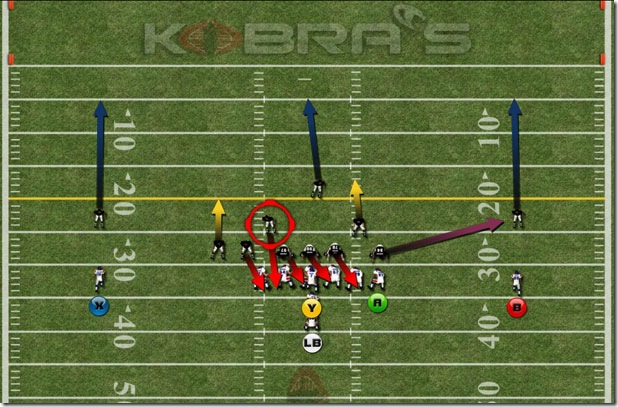 There are five defenders rushing the quarterback. The primary defender we look to get pressure with is the strong safety, who shoots through the B-Gap between the left guard and left tackle.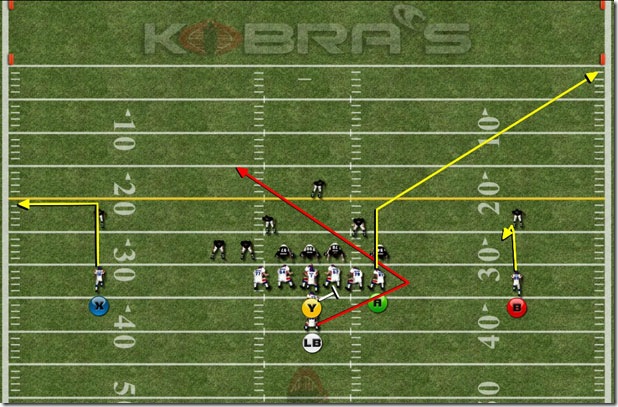 The offensive play used for this breakdowns, sends 4 eligible receivers out on pass routes. Notice the fullback stays in to block to the right.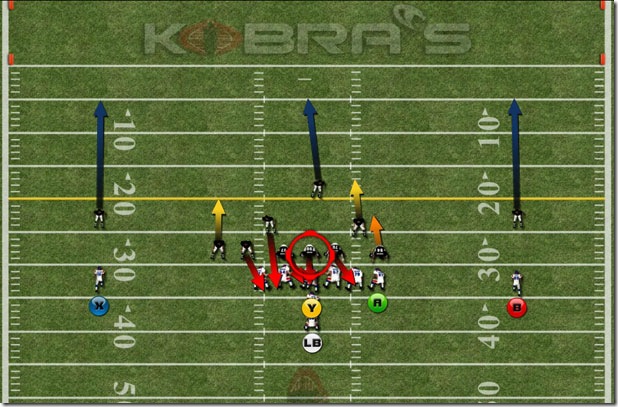 To set the defense up, we first flip the defense at the play call screen. Next, we re-hot route the strong side defensive tackle to blitz. Notice his blitz angle now shoots straight at the center.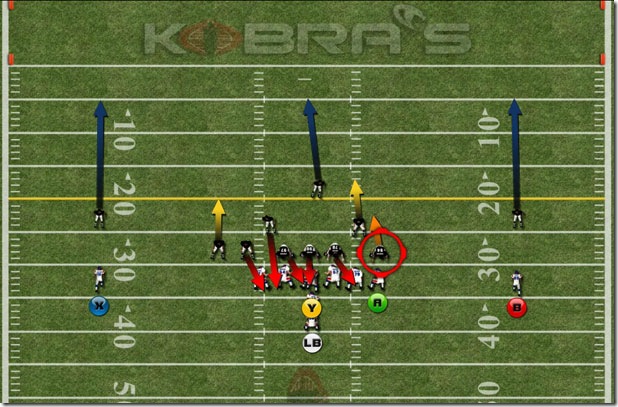 We then hot route the left end into QB Spy.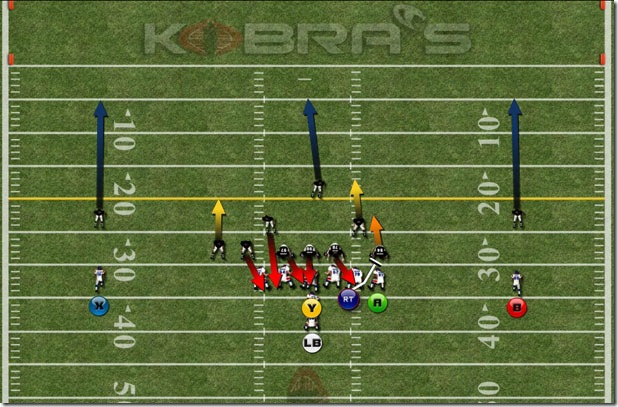 We do this to keep the right tackle occupied once the ball is snapped.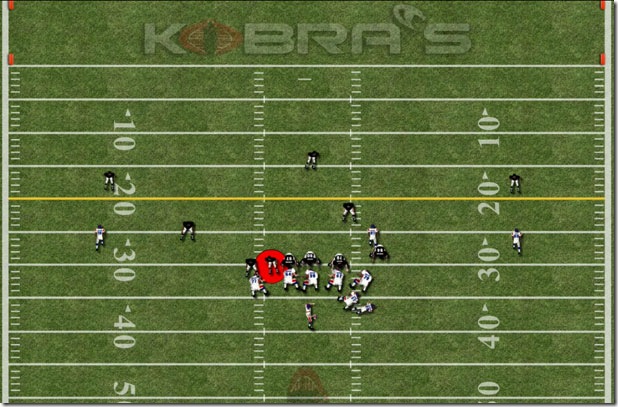 After the ball is snapped, the strong safety shoots through the B gap between the left guard and left tackle.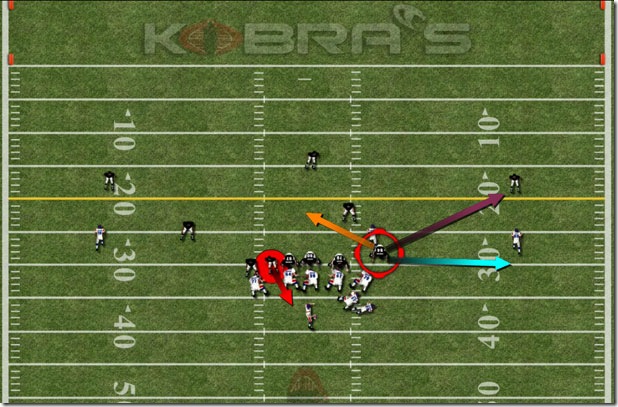 While in control of the left tackle, we hold him at the line of scrimmage by pressing the RT (PS3 R2). Once the strong safety gets to the line of scrimmage, we can drop the left end back in pass coverage.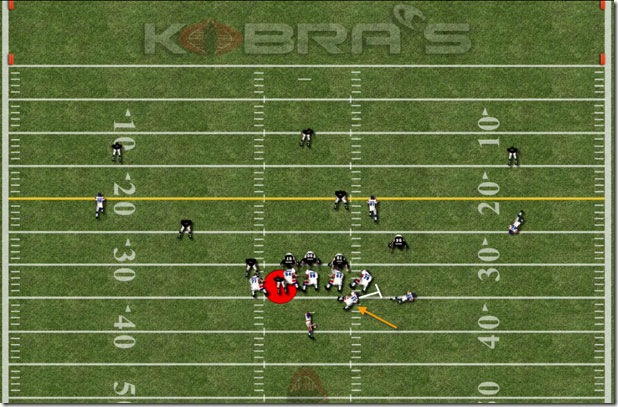 Notice the fullback is also looking to towards the left end.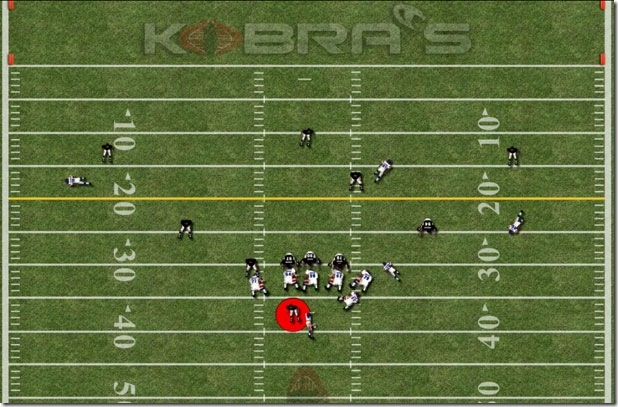 In the image above, the strong safety is about to sack the quarterback.
Video Breakdown
Final Thoughts
Another option would be to hot route the left end into QB Contain and then go control another defender. Downside of this is there is one less defender in pass coverage.
For more football video game tip breakdowns like this one,  check out the X's O's Filmroom.