Matt Bowen has posted another X's and O's Football Play Breakdown when it comes to the passing game. In this breakdown, he talks about using the sail route concept to attack Cover 3 coverage. For video football games such as Madden and NCAA, this same strategy can easily be applied.
The following is an excerpt called "How to Beat Cover 3" that was posted by Matt Bowen on May 24, 2012.
"How do you beat Cover 3? Run a 3-level concept to exploit the 3-deep, 4-under zone defense. Let's take a look at the "Sail" route, break down some coaching points and discuss why this route concept is tough to defend when Cover 3 is called in the huddle.
Personnel: Regular (2 WR, 1 TE, 2 RB)
Formation: (Pro) Strong I
Route concept: Sail (9-7-Flat)
Defensive Scheme: Cover 3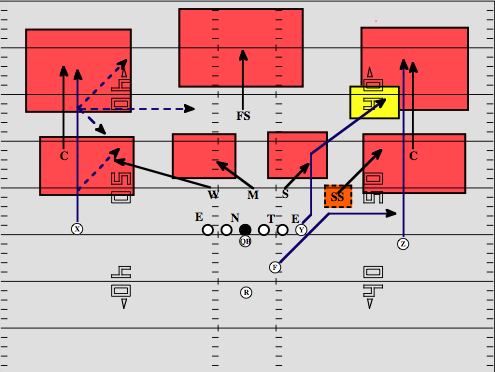 Route scheme: You will see the "Sail" route often vs. 3 deep (and zone blitz) teams. The No.1 WR to the closed (strong) side (Z) will run the clear out 9 (fade) route with the TE (Y) taking a vertical release and breaking on the 7 (corner) cut. With regular personnel on the field, the FB (in an offset alignment) will run the flat. Look to the open (weak) side of the formation. Multiple options with the X receiver: 9, slant, curl, dig or post."
To read the full article please click on the following link – How to Beat Cover 3