Aaron Rodgers has one of the most prolific pro quarterback seasons ever as he threw for a staggering 4,643 yards, while tossing 45 touchdowns. If those numbers weren't off the chart, his QB Rating of a 122.5 was. What makes Rodgers so special is his pinpoint accuracy, strong arm, and his ability throw on the run due to his underrated mobility. Throw in the Packers talented receiving core, makes for a very explosive passing attack.
Player Bio
Number: #12
Position: QB
Height: 6′ 2″
Weight: 225 lbs
Team: Green Bay Packers
Birth Date: December 2, 1983 (Age: 28)
Birth Place: Chico, CA
Experience: 8 years
College: California
Aaron Rodgers Madden 13 Predicted Player Ratings Card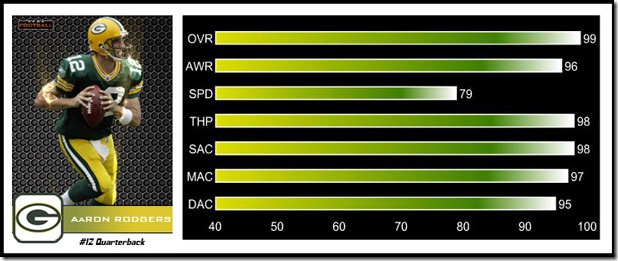 Madden 13 Player Ratings Impact
We expect Aaron Rodgers Madden 13 player ratings impact to be huge as he will be the top overall player in the game with a 99 overall rating. With Rogers and his talented receivers, the Packers  will have one of the top passing attacks in the game. For that reason, the Packers will easily be one of the first five teams picked in Madden 13 connected careers (online leagues).
Regular Season Passing Stats
SEASON
TEAM
GP
CMP
ATT
CMP%
YDS
AVG
TD
LNG
INT
FUM
RAT
2005
GB
3
9
16
56.3
65
4.06
0
16
1
2
39.8
2006
GB
2
6
15
40.0
46
3.07
0
16
0
1
48.2
2007
GB
2
20
28
71.4
218
7.79
1
43
0
0
106.0
2008
GB
16
341
536
63.6
4,038
7.53
28
71
13
6
93.8
2009
GB
16
350
541
64.7
4,434
8.20
30
83
7
8
103.2
2010
GB
15
312
475
65.7
3,922
8.26
28
86
11
2
101.2
2011
GB
15
343
502
68.3
4,643
9.25
45
93
6
4
122.5
Career
69
1381
2,113
65.4
17,366
8.22
132
93
38
23
104.1
Regular Season Rushing Stats
SEASON
TEAM
GP
ATT
YDS
AVG
LNG
TD
FD
FUM
LST
2005
GB
3
2
7
3.5
8
0
1
0
0
2006
GB
2
2
11
5.5
6
0
1
0
0
2007
GB
2
7
29
4.1
13
0
3
0
0
2008
GB
16
56
207
3.7
21
4
21
4
0
2009
GB
16
58
316
5.4
35
5
25
2
0
2010
GB
15
64
356
5.6
27
4
22
2
1
2011
GB
15
60
257
4.3
25
3
18
0
0
Career
69
249
1,183
4.8
35
16
91
8
1