Nevada's Head Coach Chris Ault came up with the Pistol  offense in 2004 because he wanted to be able to have a threat of a power run offense, but he also wanted to be able to throw the ball with same success of being in the Shotgun. Instead of having the quarterback line up five yards behind the center in a traditional Shotgun formation, the quarterback now lines up 3 yards behind the center. When going with the standard Shotgun formation, it the limited options with the running game. In the Shotgun, running backs typically line up to the side of the quarterback, limiting the kind of straight-ahead runs through the line that Ault wanted to keep in the playbook. But the Pistol, just as in the Shotgun, provides an easier read for quarterbacks, who can also drop back deeper to get in a better position to pass.
Difference Between Shotgun and Pistol
Below we take a look at differences between the Shotgun and Pistol formation.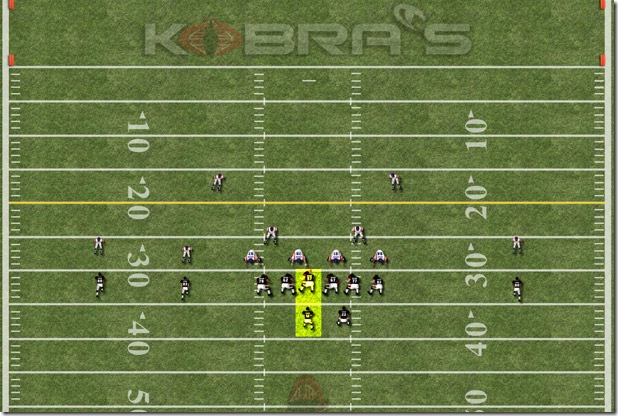 In the image above we show the quarterback in the Shotgun. Notice he lines up five yards behind the center.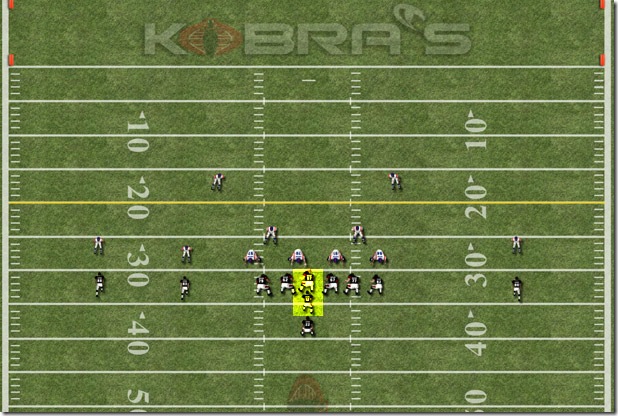 The runningback lines up in the Pistol ( in the image above) the quarterback lines up 3 yards behind the center. The runningback lines up 3-4 yards behind the quarterback.
Advantages of Running the Pistol Offense
The Pistol offense takes advantage of the Shotgun where teams that run it can get back into their passing game but still have the run and play-action game of being under center. The formation change also allows the Wolf Pack to keep its traditional multiple wide receiver passing offense intact, while preserving the run game. Not only does it allow the running backs success when running the ball, but the quarterback also can have that same type of success.
Examples of Pistol Formations
Below are  four examples of Pistol formations that are commonly used in football video games such as Madden and NCAA.
Teams that Run the Pistol Offense
The following American college football teams have used some aspect of the pistol offense:
Alabama (as of 2009)
Arizona State
Arkansas (as of 2010)
Baylor (as of 2009)
Boston College
Clemson (as of 2012)
Connecticut (as of 2009)
FIU
Florida Gators
Florida State
Hawaii
Illinois (as of 2010)
Indiana (as of 2009)
James Madison
Kansas
Louisville
LSU
Missouri
Monmouth
Nebraska
Nevada
North Dakota
Northern Arizona
Ohio
Ohio State
Oklahoma
Oklahoma State
Oregon
Portland State (as of 2010)
Purdue
Rutgers
San Jose State (as of 2010)
Syracuse
Tarleton State (as of 2009)
Texas Tech (as of 2010)
Tennessee (as of 2011)
UCF
UCLA (as of 2010)
UTSA (as of 2011)
Virginia Tech
Washington (occasionally, 2010)
ETBU
The following NFL teams have used some aspect of the pistol offense:
Kansas City Chiefs
Miami Dolphins
Pittsburgh Steelers
Detroit Lions
Buffalo Bills
San Francisco 49ers
Carolina Panthers
More Information About the Pistol Offense
Over at coachbigb.com there is plenty of more info about running the no huddle power Pistol offense. To read more about it, please click on the following link – Pistol Offensive Section