Whether you already have "mad game" or if you are new to football video games Football, the X's O's Filmroom will give you the strategies and tips you need to take your game to the next level.

Unlike standalone ebooks or video guides, the X's O's Filmroom is 52 weeks of continuous Football Video Game! Our  X's and O's Football Tips and Footballs Strategies will save you countless hours of practice, because our experts are doing it for you! For a full year you will receive only the best and most effective breakdowns that our team has tested and verified. These are plays that anyone can use to improve their game immediately. The strategies covered in the X's O's Filmroom will help you improve game regardless if it's Madden, NCAA, 2k, Backbreaker, NFL Blitz, ect… Rather than showing glitches, we show real offensive and defensive football concepts that translate over to video game football. Think of this product as a year-long membership to an exclusive club of  Football Video Game Tips where we personally hand-pick and test plays to give you constant support and updated winning tips.
Discover the Football Video Game Tips the Top Ballers Use to Dominate Online & Offline
A full year of newly crafted and continual content!
At least 3-6 new breakdowns every week!
That's between 150 to 300 articles per year!
X's O's Filmroom Provides Video Football Game Tips Year Around To Improve Your Video Football Game
Visually showing you how the plays work – Unlike other Video Football Game Tips sites, not only do we use video and voice overs for our breakdowns, we also use telestration, just like you see on those weekly football breakdown shows.
Light up the Scoreboard with "Money Plays" – Are you being shut down on offense? We'll show you how to exploit weaknesses on the field and bust the defense wide open.
Beating Zone Coverage – If you don't know how to beat zone coverage, your passing game is going to struggle. That's why we provide plenty of zone busters, so you never have to worry about beating pattern read zone coverage.
Creating bump-n-run man beaters – Let's face it, beating bump-n-run man coverage has always been a challenge over the years. This type of coverage is even more effective if your opponent knows anything about bringing the heat.  Don't worry; we got you covered as we will break down several plays that destroy bump n run man coverage.
Increasing your rushing attack totals – Running the ball is not the most exciting way to gain yardage, but it's highly effective in this year's game. In the X's O's Filmroom, we show plenty of power and finesses run plays to help get your running game on track. We also show how to get the most of out of the running game from the Spread Option and Pistol offensive formations.
Enhancing blitz schemes – One of the first things we do when we get the game is find ways to bring instant pressure on the quarterback, and we got plenty of them! This will increase the number of sacks you get by hooking up the standard blitz plays to make them more deadly.
Defending against Offensive "Money Plays" – We are constantly receiving requests for help in defending against certain offensive "money " plays that players take advantage of online or head-to-head. We break them down for you, showing you how to run them yourself and defeat them with powerful defensive strategies.
Countering the Blitz – Are you being shredded by 1 second blitzes? We'll show you how to stop the heat and bust the defense wide open. Counters are included for every enhanced blitz that we show.
Stopping the Run game – In this year's game, stopping the run game is harder than ever. Don't worry, we offer plenty of run stoppers to slow down even the most potent rushing attack.
Here are some more of the Football Video Game Tips and Features you can expect from the X's O's Filmroom:
X's O's Filmroom Tips and Features:
Learn how to make pre-snap reads of the defense. If you can determine whether the defense is in man or zone coverage, then you can bust them wide open. The X's O's Filmroom will continuously explore techniques that you can use to figure out what the defense is doing before the snap. Then we'll show you how to attack!
Use a mixture of video game & Sim style playing. Everybody like to play a different style of game. Some like a freestyle anything goes experience that might not mimic what you see on Sundays. Others like to play the game to the nth degree of realism. We cater to both styles of players.
Attack any coverage with compression sets. Many of our play breakdowns utilize compression concepts. We'll show you how to create matchup problems for the defense over and over again. Put the defense on its heels and ring up the scores.
Get the skills to running a shutdown defense. We'll show you play after play that will increase the heat on the QB while at the same time protecting the weak spots on the field.
Breakdown of various offensive and defensive plays, using text, images, video with voice over's and telestration.
Offensive and defensive schemes that can be used to dominate your opponent.
Learn Video Football Game Tips The Way You Want!
We all know that people learn in different ways. Some can read something and understand it, and yet others need to see it visually. In the X's O's Filmroom, we've got you covered both ways. A picture is worth a thousand words, and at X's O's Football, we take this to a whole new level! Unlike other sites, not only do we break down plays with video and voiceover, we also break down plays with screenshots, text, and even telestrations that would even make the Czar of the telestrator proud. See for yourself how we tackle a breakdown with pictures, text, videos, voice overs, and telestrations. Nobody puts that kind of effort and detail into their guides! Here's a sample of what one of the articles looks like:
X's O's Filmroom Example:
The Strong Close  is no doubt one of the most popular formations in this year's game, for that reason we wanted to show a passing play from it that we like to attack zone coverage with. The name of the play Inside Post.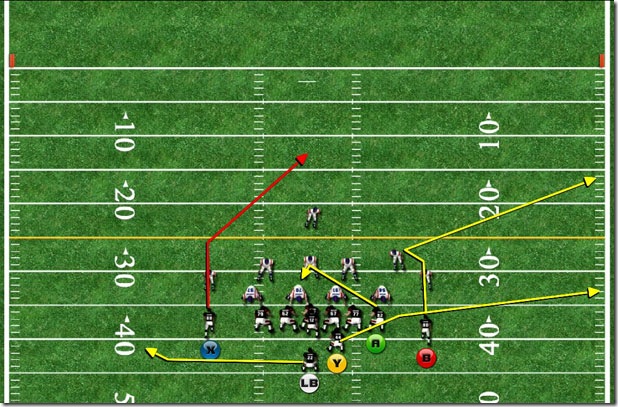 By default the Strong Close – Inside Post is designed to get the ball to the split end (X), who is running a post route.  However, for this X's and O's breakdown, we are going to look to throw to another receiver.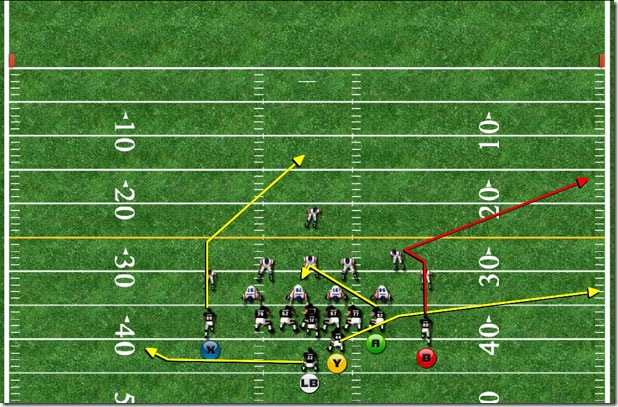 The receiver we are going to focus in on is the flanker (B), who is running a post corner route.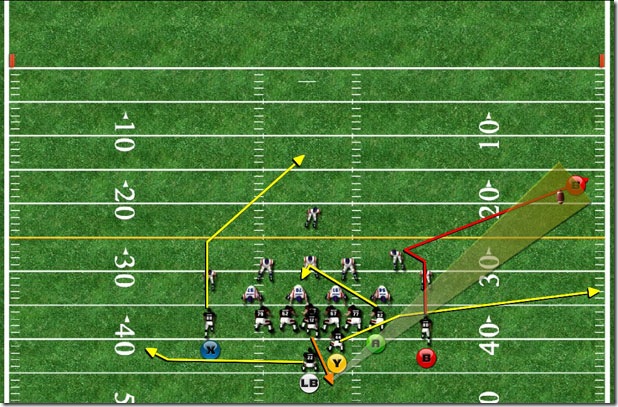 The defensive coverage used for this breakdown is Cover 3 (Sky) coverage.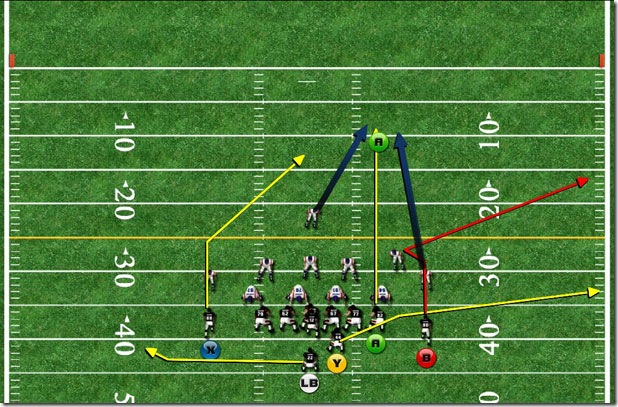 To help get the flanker open, we hot route the A receiver on a streak. Notice he now runs a seam route down the right hash mark. The idea behind this is get the left and free safety to cheat towards him.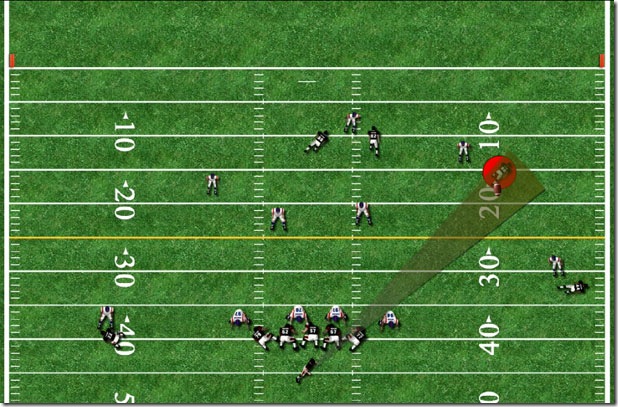 If the left cornerback does go inside to cover the tight end, the flanker should be open once he breaks towards the corner.
Get Your Year Around Video Football Game Tips Immediately!!!!
We know that you had to shell out your hard-earned dough for the game itself, so we are offering a full year's access to the X's O's Filmroom™ for a great price of only $27.95 $12.95. Your $12.95 gets you all the strategies and tips listed above, and much more. Your account will be activated immediately, so you don't have to wait to get started. We'll send you a confirmation email, and you can be online and improving your game in minutes. If you are ready to take your game to new heights, click the buy button now to gain instant access now.
Order Now! – Only $12.95 (that's just over $1/monthly)