Here is another X's and O's article by Matt Bowen. In this breakdown, he talkes about about three pass routes that pro receivers must convert to be successful.
The following is an excerpt called "Three Pass routes WRs Must Convert" that was posted by Matt Bowen on April 02, 2012.
During your own tape study leading up the draft, there are three routes you should focus on at the WR position: the 7 (corner), Dig (square-in) and slant. Base concepts that every rookie wide out must convert if they want to get on the field in the NFL. Today, let's go to the chalkboard, discuss some coaching points and breakdown why these three routes are key at the pro level.
1. 7 (corner) route: Jet personnel (4 WR, 1 RB)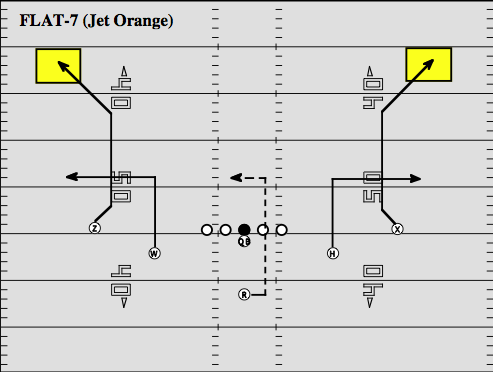 – Drawn up in the Flat-7 combination using a 2×2 "Orange" (spread) alignment.
To read the full article please click on the following link – Three Pass routes WRs Must Convert